FRIDAY NIGHT LIVE
IN THE SENDERS LIBRARY AT BOCA RATON SYNAGOGUE
Designed specifically for the novice worshiper, these free explanatory prayer services are conducted in both Hebrew and English, and provides a comfortable non-judgmental venue for those with little synagogue experience to participate in traditional synagogue services. Discussions, questions, and curiosities are encouraged in this "unorthodox, traditional" service, which has been praised for its widespread appeal and congenial approach to synagogue education.
Here are some of our special guests!
PRESIDENT RICHARD JOEL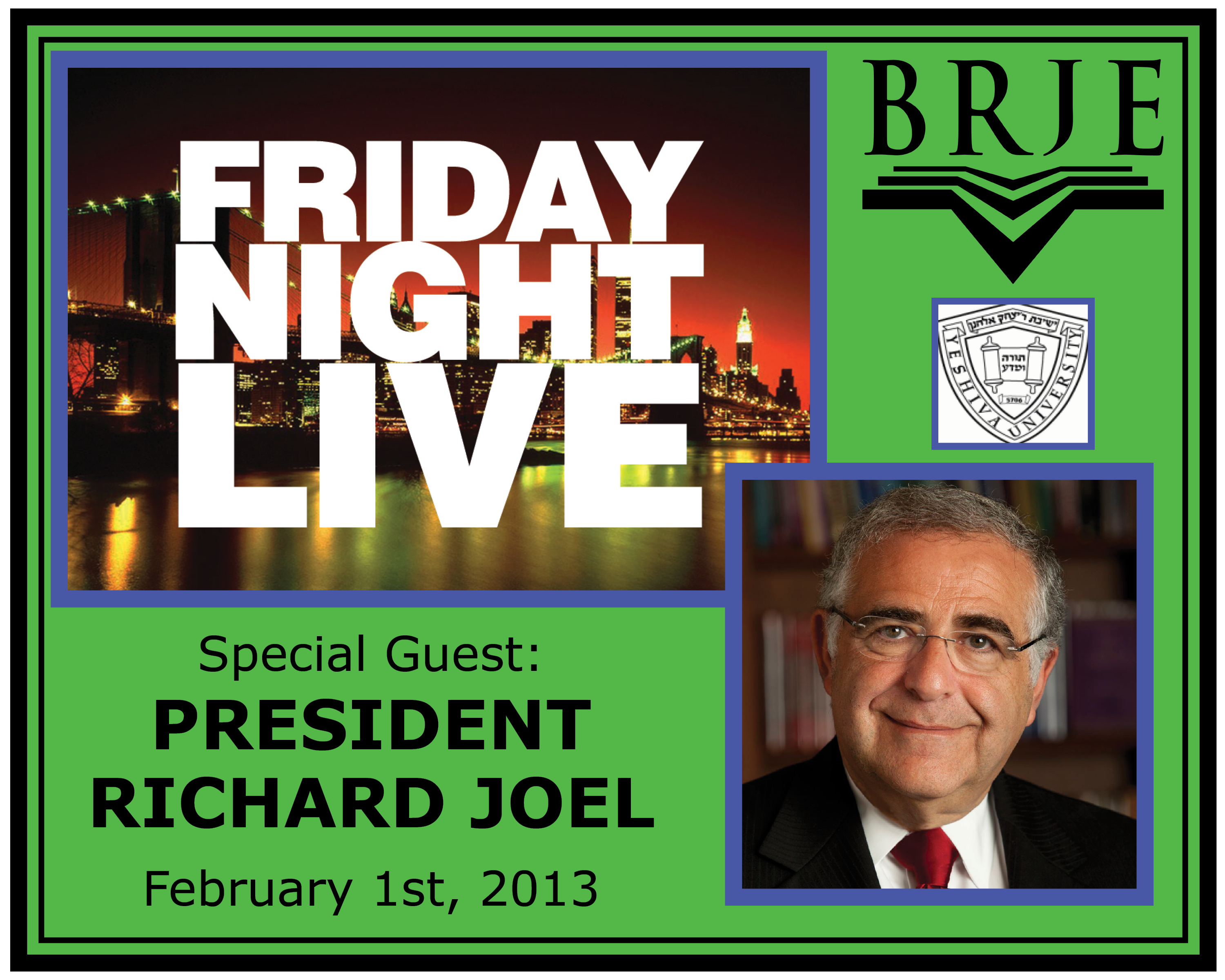 Richard M. Joel was inaugurated as Yeshiva University's fourth president on September 21, 2003, and was named Bravmann Family University Professor in April 2010. Founded in 1886, Yeshiva University was built and sustained by its previous three presidents, Dr. Bernard Revel (1915-1940), Dr. Samuel Belkin (1940-1975) and Dr. Norman Lamm (1976-2003). The latest chapter in this illustrious tradition, President Joel's tenure has been an era of growth for Yeshiva University defined by academic excellence, vibrant student life, and valuable service to the Jewish and wider communities. Speaking of a Yeshiva University education that ennobles and enables a generation of Jewish leadership, President Joel has led the "reimagination" of Yeshiva's curriculum, integrating depth and breadth in Jewish learning, responsibility for the Jewish people and humanity, and excellence in the liberal arts, business, and sciences.
Prior to Yeshiva, President Joel served as the president and international director of Hillel: The Foundation for Jewish Campus Life, driving an extraordinary renaissance of Jewish life on campuses around the world. During his tenure he built numerous new facilities, partnered in the creation of Birthright and focused the community on reaching Jewish youth through the engagement and empowerment models. He received his BA and JD from New York University where he was a Root-Tilden law scholar and has received honorary doctorates from Boston Hebrew College and Gratz College. He was an assistant district attorney in New York, deputy chief of appeals in the Bronx, and Associate Dean and Professor of Law at YU's Benjamin N. Cardozo School of Law. President Joel's family has a deep connection to the Yeshiva University community. He and his wife, Esther, who holds a PhD from YU's Ferkauf Graduate School of Psychology, have six children, all of whom have attended Yeshiva University.
ONE FAMILY FUND
OneFamily is the family of Israel's victims of terror attacks - those who have been bereaved, those who have been maimed, and those suffering from post-trauma as a result of terrorist attacks since 2000.
Michal Belzberg was preparing for her Bat Mitzvah in Jerusalem when a suicide bombing struck the crowded Sbarro restaurant in the city's downtown on the day of her 12th birthday. Fifteen people were murdered and 130 men, women and children were wounded. It was the most deadly attack in Jerusalem since the beginning of the Intifadah in September 2000. In the wake of such sorrow and destruction, Michal felt that she could not hold a celebration, so she cancelled her Bat Mitzvah party in order to contribute the Bat Mitzvah's expenses to victims of the attack. In addition, she encouraged friends and family to give the victims everything they had planned on giving her.
NOAM IVRI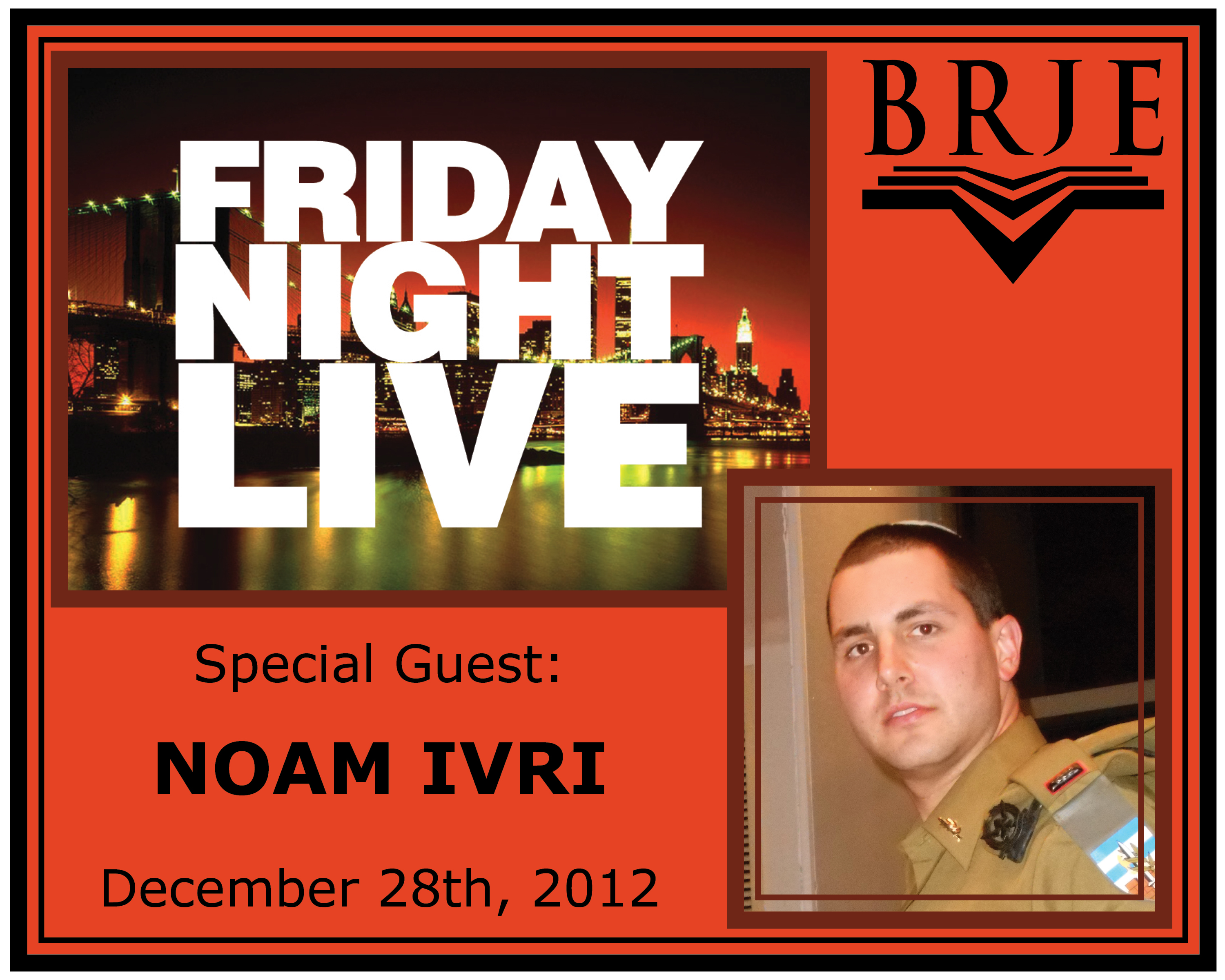 Noam Ivri, born Jeremy Noam Makover, grew up in the Boca Raton Jewish community. He fell in love with the people and land of Israel after participating in a summer program around the country as a high school student. Noam made aliyah in 2009, after graduating with from George Washington University with a BA in international relations and spending half a year studying Arabic in Amman, Jordan. Enlisted in the IDF since October 2010, Noam has taken advantage of his academic and language background to serve in the army's Foreign Militaries Cooperation Unit with Jordanian forces at the Allenby Border Crossing and more recently with the Coordination of Government Activities in the Territories (COGAT), the body responsible for implementing Israel's policies in Judea, Samaria, and Gaza. Noam finished Officers' Training Course in May 2012 and since serves as a 2nd Lieutenant at the Defense Ministry in Tel Aviv . He resides in the Arnona neighborhood of Jerusalem.
DR. BARUCH STERMAN & CHAI LIFELINE
Since 1987, Chai Lifeline's mission has been to restore the light of childhood to children whose innocence ended when life-threatening or lifelong illness was diagnosed.Through programs that address the emotional, social, and financial needs of seriously ill children, their families, and communities, Chai Lifeline restores normalcy to family life, and better enables families to withstand the crises and challenges of serious pediatric illness. Baruch Sterman is co-founder of the Ptil Tekhelet Association, which has succeeded in restoring the ancient Biblical blue dye, and is devoted to promoting educational programs and awareness of the topic. Today, hundreds of thousands of Jews around the globe wear Tzitzit produced by Ptil Tekhelet. Baruch has lectured throughout the world on the subject of Tekhelet. He writes extensively on the topic of science and religion, and his articles have appeared in numerous prominent journals.
YACHAD
YACHAD, The National Jewish Council for Disabilities is dedicated to enhancing the life opportunities of individuals with disabilities and ensuring their participation in the full spectrum of Jewish life. Yachad provides integrated social, educational, and recreational programs for Jewish youth and adults with special needs. National Jewish Council for Disabilities, NJCD, serves as a National Resource Center, providing advocacy, information, referral, educational, and direct services for individuals with special needs.
AIPAC
Ed Miller began his political career conducting public opinion polling for candidates across the United States and Israel. During that time, he wrote for many national and international publications and spoke on behalf of the Jewish Federations of North America, analyzing political events in the U.S. and Israel. For the past four years, he has served as AIPAC's National Deputy Political Director. In this capacity, he travels the country meeting with candidates for federal office to enhance their understanding of issues in the Middle East and the importance of the U.S.-Israel relationship. He is also responsible for keeping AIPAC's political activists updated on races and events across the country.
PENINA TAYLOR
Penina Taylor was born into a secular Jewish family, and faced with a traumatic childhood, Penina Taylor embraced Christianity while in High School. However, after 17 years in leadership in the Christian and Hebrew-Christian communities, Penina's search for truth brought her to a revelation that turned her world upside down. In 2000, she embraced the faith of her forefathers by returning to Judaism. Now, as a Jew who has "come home", Penina talks to Jewish audiences across the religious spectrum in the hopes of giving strength and encouragement, empowering the Jewish community in its fight against influences that spiritually threaten the Jewish people and inspiring individuals towards a more meaningful Jewish experience.
RABBI PHILIP MOSKOWITZ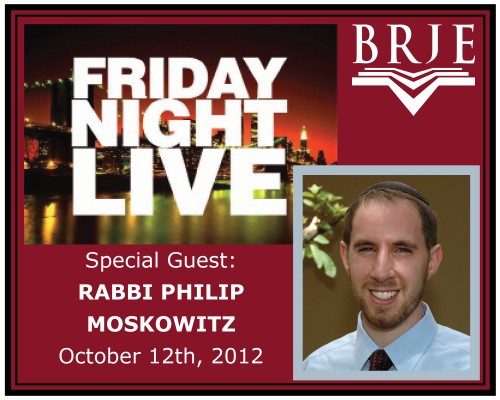 Rabbi Philip Moskowitz, our new Assistant Rabbi was previously the Assistant to the Rabbi at the Young Israel of Holliswood, NY and a Program Director at Yeshiva University's Center for the Jewish future. In his capacity at Young Israel of Holliswood, Rabbi Moskowitz gave frequent classes and sermons. At YU, Rabbi Moskowitz was responsible for harnessing the vast resources of the university to strategically support and enrich communities around North America with transformational initiatives. He is a graduate of Yeshiva College and has received his rabbinic ordination from the Rabbi Isaac Elchanan Theological Seminary. Rabbi Moskowitz is joined by his wife Arielle and their children Moshe and Shayna.
DR. EYTAN MARCUS
Dr. Jonathan Eytan Marcus, his wife Devorah, and their five children are members of the Boca Raton Synagogue. An alumnus of Yeshivat Ohr Yerushalyim, Yeshivat Keren B'Yavneh and Yeshivah University Dr. Marcus is a graduate of the prestigious Robert Wood Johnson Medical School, and is board certified in Internal Medicine, Pulmonary Diseases and Critical Care Medicine. Dr. Marcus has extensive experience in the practice of critical care medicine including in the areas of critical care neurosurgery, critical care cardiology, critical care oncology and critical care obstetrics.
After moving to Florida and joining ICC Healthcare intensivist Group as an Intensivist in 2008, Dr. Marcus was appointed as the Medical Director of ICU and the Director of the Critical Care Rotation for the University Of Miami Miller School Of Medicine Internal Medical Residency Program at the JFK Medical Center. He has been an active member of numerous hospital based committees including pharmaceutical and Therapeutics, Ethics and currently chairs the special care, therapeutic hypothermia and code blue committees at JFK Medical Center. He has also been a national HCA physician champion and medical advisor for HCAPS and the Surviving Sepsis Initiative. In 2011, Dr. Marcus was appointed Regional Director of Medical Operation for ICC Healthcare. In this capacity, he is responsible for the critical care operations in over a dozen programs from New Jersey to Miami.
YOCHEVED GOLDBERG
Yocheved Goldberg holds an Undergrad Degree in Psychology and a Masters in Social Work. She has worked for many years in geriatric social work. For the past 13 years, we have known her as our beloved Rebbetzin and she has been involved with all of us. In addition to her work with the Mikvah, Sisterhood, Chesed Committee, Bat Mitzvah Classes, Adult Ed Program and many other committees that our community has to offer, she has also been a Kallah teacher for the past 15 years. Rebbetzin Goldberg also runs a successful business that oversees one very busy Rabbi and their six daughters.
SHIMON CRAIMER
Shimon Craimer is a graduate of London's Trinity College of Music, and served as Cantor of Edgware United Synagogue. He currently serves as Ba'al Tefillah of the Riverdale Jewish Center.
AYALA BROIDE & RACHELLI GOLDBERG
Ayala and Rachelli addressed FNL about the incredible summer experience they had at Camp Kaylie. In addition to offering unparalleled sports and exhilarating programming, learning and leadership activities, Camp Kaylie is the first-of-its-kind fully integrated camp - a camp for children of ALL abilities; that is typically developing campers with no disabilities enjoy a phenomenal summer with integrated high-functioning campers with developmental disabilities. Nurturing sensitivity and newfound friendships, it's a life-elevating experience for all, one that will stay with campers forever! Campers will be become more understanding and sensitive to others, help realize the potential of one another, become better people and better leaders of tomorrow - enriching the community.
RABBI BENJAMIN YUDIN
Rabbi Yudin has served as the spiritual leader of Congregation Shomrei Torah since 1969. Together with his wife Shevi, he has been involved in virtually every aspect of Jewish life in Fair Lawn. Their reputation is known internationally. Rabbi Yudin graduated with a B.A. in History from Yeshiva University. He then pursued a dual graduate program, earning semicha from Y.U.'s Rabbi Isaac Elchanan Theological Seminary, as well as a master's degree in Jewish History. His association with Y.U. continues to this day, as he teaches Bible and Jewish Thought in the Mechina Program at Yeshiva College, and is a former dean of Mechina's predecessor, the James Striar School.
RABBI SIMCHA WEINBERG
Rabbi Simcha Weinberg, of The Foundation Stone™, continues his series of Tools For Rosh Hashana, based on Bible, Talmud, Midrash, Kabbala and Chassidic thought. For more information visit http://www.thefoundationstone.org/. Rabbi Simcha Weinberg deisgned The Foundation Stone™ i.e. http://www.thefoundationstone.org to teach Judaism which is highly effective at integrating all aspects of one's life, spiritual, psychological and physical. It provides tools for us to become healthier and more productive human beings. Judaism offers us a way to maintain a healthy and practical perspective on our lives that does not ask us to hide from the world. Judaism guides us in engaging in the world.
RABBI HANOCH TELLER
Rabbi Hanoch Teller has lectured before audiences on five continents, in 40 American States and 24 other countries. People from all backgrounds flock to hear this award-winning author, orator, and educator speak on a wide range of subjects. Rabbi Teller is a popular teacher in numerous Jerusalem Yeshivas and seminaries. As a teacher, Rabbi Teller draws from his thorough knowledge of Torah, Jewish history and thought, specifically the history of our rabbis and leaders, to inspire and uplift his students during his shiurim.
RABBI JOSH SPINNER
Rabbi Spinner is currently Executive Vice President and CEO of The Ronald S. Lauder Foundation and lives in Berlin with his wife, Joelle, and three daughters. Rabbi Josh Spinner studied at Yeshivot in Toronto and Jerusalem, and received a B.A. at Columbia College in New York City. From 1995 to 1997, Josh lived in Minsk, Belarus, where he created educational programs for young Jews on behalf of YUSSR. On his return to New York City, Josh joined The Ronald S. Lauder Foundation as an educational consultant on project development in Germany while pursuing rabbinical studies at Mesivta Tifereth Jerusalem. After his ordination in 2000, Josh moved to Berlin, Germany, and established institutions and projects in Berlin, Leipzig and Hamburg which grew into Lauder Yeshurun, a leading provider of Jewish education and outreach in Germany today. In 2009, he led the reestablishment of the Rabbinerseminar zu Berlin, the legendary pre-war "Hildesheimers" Orthodox rabbinical seminary of Germany.
DR. MICHELLE FRIEDMAN
Dr. Michelle Friedman's chief interests are the interface between psychiatry and obstetrics and gynecology and the interface between psychiatry and religious life. Dr. Friedman did her undergraduate work at Barnard College where she majored in religion. After medical school at the NYU School of Medicine, she did an internship in medicine at St. Vincent's Hospital and then a residency in psychiatry at Mt. Sinai Hospital and Medical Center where she is on staff as an associate clinical professor of psychiatry. Currently, in addition to her private practice, she is the director of pastoral counseling at YCT (Yeshivat Chovevei Torah) Rabbinical School in New York.
PROFESSOR YISRAEL ROBERT AUMANN
Robert John Aumann is an Israeli – American mathematician and a member of the United States National Academy of Sciences. He is a professor at the Center for the Study of Rationality in the Hebrew University of Jerusalem in Israel. He also holds a visiting position at Stony Brook University and is one of the founding members of the Center for Game Theory in Economics at Stony Brook.
Aumann received the Nobel Memorial Prize in Economics in 2005 for his work on conflict and cooperation through game-theory analysis. He shared the prize with Thomas Schelling.
JOSEPH "JB" BENSMIHEN
A native of Montreal, JB was born with spastic cerebral palsy, and doctors told his parents that their son would never walk. Fortunately, his parents never told that to JB, and never indicated that he couldn't do anything because of his disability. "In addition to emphasizing the power of education, my dad told me I was the best every night before I went to sleep," said JB, "and because of him, I believe it to this day." Not only did JB walk, but the confidence his father instilled in him has carried him through his life and been instrumental in his success.
CHARLIE J. HARARY
Charlie J. Harary is a prolific speaker who has traveled all over the country and abroad speaking for organizations, schools, universities and institutions on a variety of topics and to audiences of various sizes and affiliations. He has created dozens of videos that have received worldwide attention reaching hundreds of thousands of people in over 15 countries. He is also a Senior Lecturer for the Orthodox Union, Aish Hatorah and NCSY.
Mr. Harary is the First Vice President of Residential Operations and Legal Counsel of RXR Realty, a multi-billion dollar Real Estate Company based in New York. Prior to RXR, Mr. Harary was an associate in Paul, Weiss, Rifkind, Wharton & Garrison and Davis Polk & Wardwell. He received his J.D. from Columbia Law School where he was awarded the James Kent Scholar and the Harlan Fiske Stone Scholar. Mr. Harary received a B.A. in Political Science and Communications from Queens College, where he graduated magna cum laude. Mr. Harary is a member of the Real Estate Board of New York and is admitted to the Bar of New York.
Mr. Harary is an active community leader. He is a member of the Executive Board of the OU as well as the Founding Chairman of its Young Leadership Cabinet. He is also a member of the Conference of Young Jewish Presidents.
Mr. Harary is the founder of Milvado Inc., an organization that develops innovative methods to teach spirituality in relevant and modern ways.
The Boca Raton Jewish Experience is proud to welcome Charlie Harary to Friday Night Live at Boca Raton Synagogue on February 3, 2012.
DR. MAYIM BIALIK AND MS. ALLSION JOSEPHS
Mayim Bialik is best known for her portrayal of the young Bette Midler in 1989's "Beaches" and went on to star in the popular sitcom "Blossom" from 1990-1994. Bialik holds a Ph.D. in Neuroscience, has two young children, is the spokesperson for the Holistic Moms Network and currently appears as Amy Farrah Fowler on "The Big Bang Theory."
Allison Josephs was raised as a proud Conservative Jew in a small town in Northern New Jersey, but due to a childhood existential crisis, she spent years searching for the meaning of life. At the end of high school Allison started looking into Judaism more deeply and saw that there was tremendous depth and beauty within Orthodox Judaism, but realized that it was an option that so few Jewish people ever consider, as public opinion of Orthodox Jews is so negative. Check out her website "Jew in the City".
The Boca Raton Jewish Experience was proud to welcome Dr. Mayim Bialik & Ms. Alison Josephs to Friday Night Live at Boca Raton Synagogue on January 27, 2012.
RABBANIT AVIGAYIL ROCK
Rabbanit Avigail Rock was formerly leader of the Women's Division of the Boca Raton Community Kollel. Dr. Rock earned a Ph.D. in Tanach at Bar Ilan University, and is certified as a Bet Din Advocate. Dr. Rock's Shiurim create a true dialogue between teacher and student, challenging students to develop and use their creativity and skills at the highest level to find the deeper meaning in Tanach, Midrash, and Meforshim.
The Boca Raton Jewish Experience was proud to welcome Rabbanit Avigail Rock to Friday Night Live at Boca Raton Synagogue on January 20, 2012.
RABBI DR. DANIEL GORDIS
Dr. Daniel Gordis is President of the Shalem Foundation, and Senior Fellow at the Shalem Center in Jerusalem. He is a regular columnist for the Jerusalem Post, and a frequent contributor to the New York Times, in print and on-line. The author of numerous books on Jewish thought and currents in Israel.
The Boca Raton Jewish Experience was proud to welcome Rabbi Dr. Daniel Gordis to Friday Night Live at Boca Raton Synagogue on January 13, 2012.
CANTOR SHIMON CRAIMER
Cantor Shimon Craimer, who has been called "the rising star of Jewish music in the United Kingdom" by the Chief Rabbi of the British Commonwealth, was born in London in 1978. During his student years at London's Trinity College of Music, where he earned his degree, he sang in the college choirs, performing in many important concert venues. He has appeared with several of London's Jewish choral groups and as a member of the accompanying quartet for such popular cantorial performers as Avram Fried and Mordechai Ben-David.
The Boca Raton Jewish Experience was proud to welcome Chazan Shimon Craimer to Friday Night Live at Boca Raton Synagogue on January 6, 2012.
RABBI SHARON SHALOM
Rabbi Sharon Shalom is one of the first Ethiopian Israelis to be ordained by the Chief Rabbinate of Israel. He is the spiritual leader of a congregation of about 100 people, most of them Holocaust survivors, in Kiryat Gan.
The Boca Raton Jewish Experience was proud to welcome Rabbi Sharon Shalom to Friday Night Live at Boca Raton Synagogue on December 10, 2011.
KOL ZIMRA
Pella Productions is the result of a recent merger between two of Jewish acapella's most popular and experienced ensembles, Kol Zimra and Harmonia. Pella's combined experience and depth of talent are unparalleled in the industry, with performers worldwide, and we're proud to have performed at more events than any Jewish acapella ensemble in existence.
RABBI DR. JACOB J. SCHACTER
Rabbi Dr. Jacob J. Schacter is a YU professor of Jewish history and Jewish thought. From 2000 to 2005 he served as dean of the Rabbi Joseph B. Soloveitchik Institute in Boston, where he also served as rabbi of the Maimonides Minyan in Brookline, MA. He was the first rabbi of the Young Israel of Sharon, MA, from 1977 to 1981, creating a new, vibrant and committed community. From 1981 to 2000, he served as the rabbi of the Jewish Center in New York City, moving the congregation from 180 to more than 600 members over the course of his tenure.
The Boca Raton Jewish Experience was proud to welcome Rabbi Dr. Jacob J. Schacter to Friday Night Live at Boca Raton Synagogue on November 25th, 2011.
RABBI KENNETH BRANDER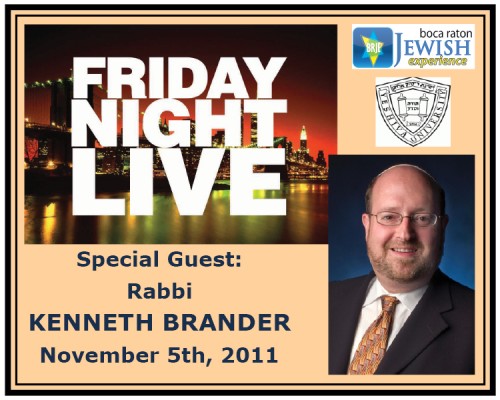 Rabbi Kenneth Brander is the rabbi emeritus of the Boca Raton Synagogue, founding dean of the Boca Raton Community Kollel and founder of the Weinbaum Yeshiva High School of Broward and Palm Beach Counties. During his 14 years of service to the Boca Raton community, he oversaw its explosive growth from 60 families to some 600 families. Under his leadership, the Hahn Judaic Campus was built to include the Boca Raton Community Mikvah, a sanctuary, library, social hall, youth and senior center and yeshiva high school. He is a 1984 alumnus of Yeshiva College and received his ordination from the Rabbi Isaac Elchanan Theological Seminary (RIETS) [link to RIETS] in 1986. During his tenure at RIETS, he served as the student assistant to the esteemed Rabbi Joseph B. Soloveitchik.
The Boca Raton Jewish Experience was proud to welcome Rabbi Kenneth Brander to Friday Night Live at Boca Raton Synagogue on November 5, 2011.
RABBI ALLEN SCHWARTZ
Rabbi Allen Schwartz became the spiritual leader of Congregation Ohab Zedek in 1988. He is an alumnus of Yeshiva College and received his Master of Arts Degree in Bible, Rabbinics and Halacha from Yeshiva University's Bernard Revel Graduate School, where he continues to work on his doctoral thesis on Rashi's methodology. Rabbi Schwartz was granted Smicha from the University's affiliated Rabbi Isaac Elchanan Theological Seminary. He currently holds the Raymond J. Greenwald Chair in Jewish Studies at Yeshiva University, where he has taught since 1983.
RABBI AVI WEISS
Rabbi Avi Weiss founded YCT in 1999. He is Senior Rabbi of the Hebrew Institute of Riverdale, a modern and Open Orthodox congregation of 850 families in Bronx, NY. Rabbi Weiss is the National President of the AMCHA – the Coalition for Jewish Concerns, a grassroots organization that speaks out for Jewish causes throughout the world. He has authored two books: "Women at Prayer: A Halakhic Analysis of Women's Prayer Groups" and "Principles of Spiritual Activism."
MORTON A. KLEIN
Morton A. Klein is National President of the Zionist Organization of America (ZOA), the oldest pro-Israel group in the U.S., founded in 1897. He is a member of the National Council of AIPAC. Mr. Klein is widely regarded as one of the leading Jewish activists in the United States. He is a child of Holocaust survivors, born in a displaced persons camp in Gunzberg, Germany.
DR. ERICA BROWN
Dr. Erica Brown is a writer and educator who works as the scholar-in-residence for the Jewish Federation of Greater Washington and consults for the Jewish Agency and other Jewish non-profits.
RABBI DOVID COHEN
Rav Dovid Cohen is a Morah D'Asrah of Congregation Gevul Yaavetz, Brooklyn, NY. He is the halachic consultant to Ohel Children's Home and Family Services and the Morah D'Asrah of NEFESH International.
RABBI MICHAEL SKOBAK
Rabbi Skobac has been involved in Jewish outreach and education since 1975. He began to specialize in the counter-missionary field when he worked under the auspices of the Jewish Campus Activities Board in the Philadelphia area in 1983. Rabbi Skobac was the founding Director of the New York Branch of Jews for Judaism, as well as a consultant to the New York Jewish Community Relations Council Task Force On Missionaries and Cults from 1987 until he moved to Toronto in 1991. Rabbi Skobac is Education Director of the Toronto Branch of Jews for Judaism.
RABBI STEVEN WEIL
Rabbi Steven Weil is Executive Vice President of the Orthodox Union. Rabbi Steven Weil, the son of German "fie handlers", grew up on a cattle farm in Upstate New York. His love for learning began early, and as a teenager prevailed upon his parents to send him away to Yeshiva. He continued his education at Kerem B'Yavneh and Yeshiva University, concurrently completing his ordination at the Rabbeinu Yitzchak Elchanan Theological Seminary and a Masters in Business Administration from NYU's Stern School of Business. Rabbi Weil began his career teaching, and then began pulpit work; first at the Young Israel of Oak Park Michigan and then at Beth Jacob Congregation in Beverly Hills, California. In both positions, Rabbi Weil significantly expanded the synagogue's membership and programming and was involved in serving the needs of the greater community as well. In 2009 he became the chief executive officer of the Orthodox Union.
RABBI SHMULEY BOTEACH
Shmuley is one of the world's leading relationship experts and spiritual authorities. His 22 books have been best sellers in 17 languages and his award-winning syndicated column is read by a global audience of millions. He is the host of TLC's award-winning Shalom in the Home and was Oprah's parenting and family expert on Oprah and Friends on XM Satellite Radio. His book Kosher Sex was an international blockbuster, published in 20 languages, and his books Parenting With Fire and Ten Conversations You Need to Have With Your Children were both launched on The Oprah Show.
RABBI MORDECHAI BECHER
Rabbi Mordechai Becher, originally from Australia, is a Senior Lecturer for the Gateways Organization. He lectured at Ohr Somayach in Jerusalem for 15 years, served in the Israel Defence Forces and taught in a number of training programs for Rabbis and educators. Rabbi Becher received his Rabbinic ordination from the Chief Rabbinate of Israel and the Chief Rabbi of Jerusalem. Rabbi Becher has co-authored two books on contemporary issues in Jewish law and ethics and has responded to thousands of legal and ethical questions on the Ask the Rabbi website on the Internet. His expertise in applying classic Jewish concepts to contemporary life has made him a sought after lecturer around the world. He has lectured in Canada, the USA, England, Israel, South Africa, Australia and Russia. His latest book, Gateway to Judaism, was recently published by Artscroll-Mesorah Press.
Mon, December 18 2017 30 Kislev 5778